What Happens At Your First Meeting With A Devon Accountant?

Once you've chosen your Devon accountant, you'll next need to arrange an initial meeting to meet your new accountants face to face
In this article, we'll give you an idea of what to expect when you meet up with your Devon accountant for the first time. We'll also share a selection of our favourite tips to help you to have a really productive and stress free meeting.
What Documents Will Your Devon Accountant Need?
There are three types of documents which you should try to take along to your first meeting, as it will make your accountants life a lot easier.
First, your Devon accountant will need to verify your identity (This is a regulatory requirement, and all accountants need to do it) You'll need to take your passport or driving license with you, together with proof of your address – for example a recent utility bill or credit card statement.
You should also dig out any correspondence or documents that you have from the Taxman – for example any recent letters and copies of your accounts and tax returns if you have them.
Finally, your Devon accountant may find it helpful to see how your accounting records are kept. So if it's convenient, take along your business cash book or print-outs of your computerised records.
Your First Meeting With Your Devon Accountant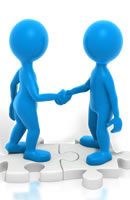 To make sure your first meeting is as productive as possible, you may find it helpful to prepare a list of questions that you want to ask prior to the actual meeting. By preparing a list of questions, it will make sure that you get all the information you need from your accountant and help your meeting to stay on the right track.
Some people also find it useful to take notes during the meeting – after all, you may have a lot of information to absorb and it can sometimes be difficult to remember everything that was discussed during the meeting later.
Make Sure Your Accountant Explains Things In Simple Terms
If your accountant mentions any terms that you don't completely understand during your meeting, ask the accountant for an explanation in plain English. Don't be afraid to do this, as you'll help to make your accountant's life a lot easier. Remember that your Devon accountant wants you to understand what they are saying, and will appreciate the opportunity to clarify any things you are uncertain of.
Never Keep Secrets From Your Devon Accountant
It is in your interests to be totally honest and upfront with your Devon accountant at all times – after all, they are acting on your behalf as your professional representatives. If you've made a few mistakes or done something wrong, it is always better that your accountant knows about them as soon as possible. Not only will your accountant be able to suggest ways to fix any problems, but they will be forewarned and better able to deal with any of these problems if they are highlighted by the Taxman at some point in the future.
Remember that your accountant is acting on your behalf, and doesn't expect you to be 100% perfect at all times – but your accountant does expect total honesty from you!
In Summary
Take a little time to prepare for your meeting with your Devon accountant and it will pay dividends. You'll get a lot more from the meeting, and your accountant will know a lot more about your business.
If you haven't yet chosen a local Devon accountant to act for you, take a look at our database of all accountants in Devon. For your convenience, all accountants are listed by Towns and Cities so you can easily find the nearest local firms in your area.
If you haven't already done so, you may wish to take a look at our short guide which contains some handy tips and advice to help you find the best Devon accountant for your needs.
Follow these tips, and you'll easily find the right Devon accountant and save yourself a small fortune into the bargain!